GNSS decimetre to centimeter
GNSS high precision receiver for your smartphone, tablet or laptop.
The Arrow 100 is designed specifically for use with a wide variety of mobile devices, including your smartphone, tablet or laptop. The Arrow 100 incorporates unmatched Bluetooth® wireless technology, which works with Android, iOS or Windows® computers, making it hard to obsolete. Switch from an iPhone to an Android phone or vice versa? No problem, the Arrow 100 works well with both.
Use the mobile GIS software of your choice

A new mobile GIS software available on the market every week? With the Arrow 100, you will not be tied to a field capture software or obsolete terminal; the Arrow 100 will remain compatible with your computer platform. The Arrow 100 provides sub-metric accuracy to every application on your Android or iOS device, even on Google or Apple cards!
Real World Accuracy
The Arrow 100 benefits from GPS, GLONASS, Beidou (and in the future of Galileo and QZSS) and free SBAS corrections in most parts of the world. North America is covered by WAAS. Europe and North Africa are covered by EGNOS. India is covered by GAGAN. Japan is covered by MSAS. The free SBAS services mentioned above provide 60 cm accuracy in real time in 2DRMS (95% reliability).
For regions not covered by a free SBAS, Eos offers the Atlas service to obtain sub-metric accuracy in real time in South America, Australia and Central and South Africa.
Work where other receivers can not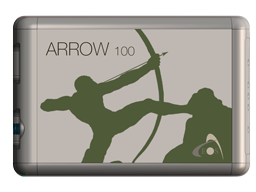 Principales caractéristiques
GNSS complet: GPS / GLONASS / Galileo / BeiDou / QZSS
Compatible 100% Android, iOS, Windows
Précision 60cm 2DRMS en temps réel en utilisant gratuitement le SBAS
Prise en charge ESRI®, TerraGo et d'autres logiciels de SIG mobile
Prise en charge des services Atlas ™ H100