Improve productivity with DigiTerra Explorer's Key Features
DigiTerra Explorer is a field mapping, data collection and data processing software designed not only for GIS professionals. It can be an integral part of an enterprise-wide GIS solution and also equally well suited as a standalone spatial data capture & management tool. DigiTerra Explorer is available in 3 editions at different price levels to meet diverse customers' needs. Please click on the Compare Features button to compare functionality in different editions.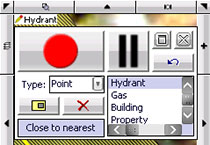 GNSS Surveying
It's easy to create new features with the GNSS Surveying control panel in DigiTerra Explorer. Using the incoming GPS/GNSS coordinates, you can capture point, polyline and polygon features quickly and efficiently.

Simultaneous Feature Collection
The GNSS Surveying panel enables to collect different feature types in different layers simultaneously e.g., without having to close and open the line or polygon feature in between collecting points.

High Accuracy GIS Data Capture
Using DigiTerra Explorer combined with real-time high accuracy GNSS receivers you can get precise coordinates to your field workforce to collect features with better accuracy.

Online Map Services
DigiTerra Explorer includes the ability to directly access multiple online sources of imagery. This includes access to WMS and TMS data sources such as Google and Bing Maps.

Google Earth
Interact with Google® Earth in a powerful way. Export the complete project in KML, KMZ formats and you'll be able to navigate around using GE and see your features and attributes on the map.

Raster orientation
DigiTerra Explorer enables you to define new and/or modify existing georeferenced data of a raster image by using affine (1st order) polynomial transformation on-the-fly.

Productive Data Capture
Minimize the time spent in the field. With the help of default field values, code-dictionary, code filters, rules and expression editor you can quickly produce feature attributes.

Map Templates
Field workers may have different scenarios to collect data. The Map Template provides a common basemap, code-dictionary, forms and empty operational layers for reuse.

Photo Mapping
Possibility to combine photographic data with GIS: link photos to features, save GEOTAG without using a GPS-enabled camera, query and display photos on the map, capture with file name prefix.

Point Text Layer
Create a new point feature layer based on x,y coordinates defined in a TXT ile. If the source table contains elevation values that can also be specified in the creation of the result layer.

Navigation
DigiTerra Explorer offers powerful point-to-point navigation when using a GPS. Destination can be selected by entering coordinates (geographical, projected, MGRS), tapped position or data record.

GNSS Resurveying
Effective tool to update or create and assign geometry to a record in a table using GPS as the source of coordinates via the GNSS Surveying panel in a seamless workflow.

Customization
You can customize the application without writing a single line of code through tool/menubar, message-boxes, splash screen, map units, coordinate/date formats, projections, templates and expression editor.

Map Printing & Reporting
Allows you to print attractive maps and reports. Morover, ther is a customizable area for point measurement reports that can be printed surprisingly simple.

Dropbox support
Official Dropbox app to integrate Dropbox to DigiTerra Explorer. It is a free service that enables you to bring your data capture projects anywhere and share them easily.

Sensor-ready
Collect data with external sensors. Make polar surveying with TruPulse or other Laser Rangefinder, use Cable Locators to measure underground cables. Take aerial photos automatically when reaching a proper positon in hang-glider or UAV.