Rugged Handheld High Precision GNSS
The GisPad offers the qualities of a precision GNSS receiver decimeter to centimeter through innovative technology, all in a compact, rugged enclosure. These different operating options allow you to use the GisPad in multiple applications such as GIS, Surveying, Forestry, Agriculture, Mines, Environment, etc. all for a reasonable price.
High accuracy in real time
With a powerful 806 MHz processor, 256 MB RAM, 1 GB ROM and up to 32G MicroSD expansion, the terminal is a high performance receiver designed to give you the power you need to work on a map and large quantities of data in the field. GISMAP runs on windows mobile and he can use several software solutions for GIS, CAD, with software like DigiTerra, ArcPad, Field This mobile ArcGIS. The integrated receiver is recognized as one of the best time decimeter receiver réel- take you everywhere and all the time with an accuracy of 30 cm RMS (60 cm 2DRMS).
With Coast tm, you can work all day with a corrected real-time signal.
GisPad is compatible with post treatment solutions and RTK centimeter real time.
GisPad is designed to provide very high accuracy under canopy.
An integrated compact receiver
With GisPad, high accuracy GIS data can be collected in less time and with less effort. The GisPad, lightweight, rugged is a simple and complete solution for your GIS applications. Take pictures or video with his camera, phone, synchronize your data in the cloud, use microsoft office mobile …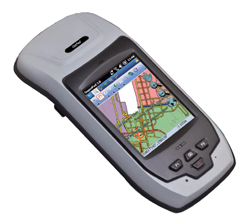 Features
Using GPS with SBAS

Rugged and waterproof

Decimeter real time with SBAS

Centimeter RTK VRS