Buying guide for a receiver
Findings:
User needs vary widely
The software is an important component of the GPS / GIS solution.
Receiver and satellite technology is changing
Considérations:
Budget
Précision
Sur quel équipement Hardware
Avec quelle application ?
There is no longer a direct relationship between cost and the accuracy required.
Total equipment cost: GNSS receiver + field notebook + training + maintenance (e.g. a receiver that works mainly in code differential is often more stable than a multi-frequency, multi-constellation canopy solution).
Integrated receiver or external receiver
All in one receiver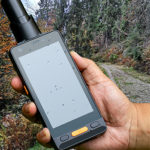 External receiver and field book
Selecting the right equipment :
external receiver or integrated receiver?
RTK, post-processing, PPP
SBAS versus LBAS:
Two main types of treatment and correction services exist, SBAS and LBAS (Spatial or Local Base Augmentation Service).
SBAS is often, by shortcut, assimilated to the system developed for the FAA (civil aviation) such as WAAS or EGNOS in Europe. Some systems such as Atlas offer the same services. However, the current free EGNOS type service allows to work in code differential, the re-acquisition of the differential and its processing is immediate, which is essential for fields such as forestry (or any cartography in obstructed environments).
Atlas is a form of SBAS, but operating in phase differential (which makes it not very efficient under canopy), unlike SBAS operating mainly in the northern hemisphere (and Australia), Atlas is global. This service is declined in 3 functionalities (H10 and H30, paying: Basic free) and works on receivers built on Hemisphere GNSS chips.
RTK, post-processing
RTK (Real Times Kinematics) is a data correction process. In order to obtain centimeter accuracy, it is essential to have a bass that can correct the satellite signals and send corrections back to the user segment. This correction is real time. This correction can be rented (Orphéon, Sat Info, etc) or owned. The user(s) has either a subscription to a provider or his base.
Post-processing is a similar procedure, but the information related to the correction is recorded and processed by software on return from the mission. The resolution of ambiguities makes it possible to obtain a precision below the centimetre (if the base is very close (<5 km). The process is the same as for the RTK. This solution is interesting when access to networks is difficult.
PPP
PPP stands for Precise Point Positioning. Corrections are made on the calculation of raw GNSS signals (clock corrections, orbit corrections, correction of electronic bias of the satellites. The best known process is network post processing (often free of charge). The disadvantage is the very long observation time, the work on ITRF …
Atlas, which is pre-embedded on most of our receivers works on this principle, but in real time with, on mixed RTK-Atlas solutions with a convergence time per second, all over the world.