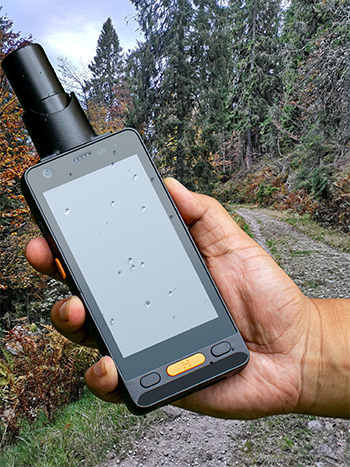 G-38, the centimeter in a featherweight …
This terminal has a multi-frequency centimeter gnss chip. IP 67 certified, ultra light and working in all weathers, it offers the best of technology at the best price.
Intended for mobile workers concerned with high real-time precision, this GNSS terminal offers real-time centimeter precision under any permanent network in the world.e.
The G-38 is a high precision, compact, rugged and cost effective data collector. It is equipped with a multi-frequency helical antenna (or external antenna) and a high-resolution 4.5-inch TFT screen, powered by a multi-constellation GNSS module.
With Android 7.0 operating system, it supports 4G LTE communication over all networks, Bluetooth, Wi-Fi and other communication links. Applicable to Google applications, HyperGIS is pre-installed and with its tools like the NTRIP client.
The G-38 is designed for power grids, agriculture, geology, forestry, field service, GIS and extreme environments.
The G-38 is a concentrate of innovative technology, all on an extremely rugged rugged terminal. These different operating possibilities allow you to use the G-38 in multiple applications such as GIS, Surveying, Forestry, Agriculture, Mining, Environment, etc. or in topography, all for a more than reasonable price.
Principales caractéristiques
Centimetric

Hardened, lightweight, waterproof

Attractive price

Many accessories (topographic antenna, survey rod, mounting bracket, software …)